Pregnancy Week 16: Here Comes the Bump
06 April, 2015
I am pregnant!
My husband, Scott and I, are expecting our first child on September 25th, 2015, and we could not be more excited!
So, I'm going to be a "hockey mom."
And I started this blog so that I could rethink what the phrase "hockey mom" means and share some honest and open thoughts with you about being an expecting mother.
I've been playing hockey for as long as I can remember and I've had to make a lot of sacrifices in my life for hockey, but I have never really had to sacrifice hockey for something else. I've also seen my parents make incredible sacrifices so that my sister Jillian, my brother Brendan, and I, could play sports.
That's what being a hockey mom is all about. Making those sacrifices.
My road to pregnancy was not a smooth one. As an Olympic athlete with a rigorous training schedule, my body fat was below 10% and my hormones were completely out of whack. In order to even have a chance of getting pregnant, I was advised by physicians to gain 15 pounds, and I had to step away completely from playing the game I love so much to make that happen and to normalize my hormones. I had to stop training and I had to stop playing hockey, something that I had done faithfully my entire life. And it was a task that ended up being much more difficult than I had anticipated.
It took much longer to get pregnant than I thought it would. And I am sure that this is something that a lot of women experience. It is frustrating and stressful, and not a subject that is openly talked about. I am a bit of an open-book when it comes to how I am feeling. I say it like it is. So I had no problem talking about my frustrations and worries.
What are we doing wrong? What is wrong with me? Why won't this happen already?!?
But what I found helped me through the process was talking about it. It relieved the stress and made me realize that what we were going through was perfectly normal, and that a lot more women around me than I thought had similar experiences.
Going into this season, I thought that taking a year off would be refreshing, that I needed the break. But as the year went on, I missed it more and more, and at times I felt somewhat depressed because I missed it so much. I had a huge hole in my life that needed to be filled. I kept telling myself that it would all be worth it once I became pregnant, and I found comfort in knowing that this is what I truly wanted. I was ready to be a mom and was willing to do anything to make that happen, even if it meant putting my hockey career on hold for a year.
And now that I am pregnant, the sacrifice is certainly worth it!
For any expecting mom out there who knows what is feels like when you go to your first ultrasound and hear your baby's heartbeat or see them move around for the first time on that screen, I don't think any feeling in the world compares to that; much like no feeling in the world compares to winning an Olympic gold medal.
I saw the first ultrasound images of our little one at 12 weeks, and it brought me to tears. Those images, seeing our baby move around (already an active little one, like his or her mom!), knowing that I am growing a child in there, and hearing the baby's heartbeat for the first time, made my pregnancy real, and were all life-changing moments that brought a whole new meaning of joy to my life.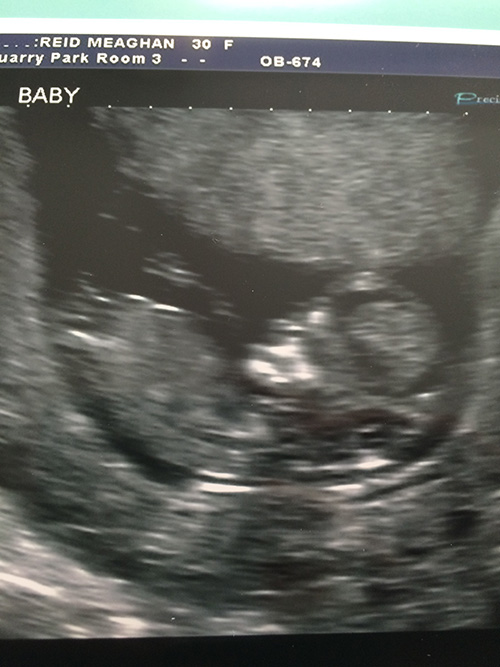 My life has almost always been centered around hockey – a focus that comes with many challenges. As a first time mom-to-be experiencing my first pregnancy, I am sure this journey will be no different. Like all roads, I am sure this one will not be straight and narrow, but full of twists, turns, and bumps.
I am not a pregnancy expert or fitness guru.
The purpose of sharing my pregnancy with you is not to tell you what you should or shouldn't do. It's about sharing all of those twists and turns and bumps, what is working or isn't working for me, and hope that what I go through is something that so many expecting or experienced mothers out there can relate to.
This is what Hockey Mom is about for me.
It's about combining my love of family and the sport and encouraging expecting moms across Canada to have healthier pregnancies, share their stories and training tips, and have some fun together.
And I am already looking forward to writing my comeback story to Team Canada and working towards my next big goal – PyeongChang 2018 with Baby Mikkelson-Reid in tow.
In the meantime, bring on the bump!
Let's do this together.
Please share your comments, stories and training tips with me on Twitter and Instagram using @Mikkelson12 and #hockeymom.
Next week on "Hockey Mom", I will discuss the fitness routine I have developed after receiving pregnancy exercise advice from one of the best pregnancy fitness experts in Canada.
---